Safety and Security Technology Cluster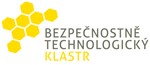 Safety Technology Cluster was founded in 2010 by particular industrial enterprises, colleges and research and developement companies in the Moravian-Silesian Region.
The main object of Safety Technology Cluster is improvement of security, competitiveness of connective members, support of science, research and innovation in safety and security area, inovation, marketing and publicity, networking between members and education and staff development.
Products/Services
Measurement of pollution rate with analysis and evaluation.
Expert analysis, reviews, recommendations in safety and security area.
Project support and services.
Educational activities for cluster members.
Cooperation opportunities
Partnership in safety and security area.
Consulting and professional activities in safety and security area.
Research and development activities and transfer of knowledge and technology.
Participation in projects.
Activities
Research, development and innovation.
Organize seminars, conferences and workshops.
Project consultation, preparation and realization.
Education, marketing and publicity.
Contact: Simona Guzdkova, simona.guzdkova@btklastr.cz, +420 734 232 532
Bezpečnostně technologický klastr, z. s.
Cluster NIC:
22873643
Department:
Moravskoslezský
Number of companies:
26
Employees (estimate):
18592
| CIN | Name | Type | Department | Employees (estimate) |
| --- | --- | --- | --- | --- |
| 25519581 | BC LOGISTICS s. r. o. | Firma | Zlínský | 0 |
| 25855042 | Borcad cz s. r. o. | Firma | Moravskoslezský | 150 |
| 44994575 | Centrum dopravního výzkumu, v.v.i. | Výzkumný ústav | Jihomoravský | 225 |
| 05222851 | CZ testing institute s. r. o. | Firma | Moravskoslezský | 3 |
| 00002739 | DIAMO s. p., odšť. závod HBZS | Státní podnik | Moravskoslezský | 3500 |
| 45195277 | HOBES, spol. s r. o. | Firma | Moravskoslezský | 225 |
| 02003856 | IDEA AIR s. r. o. | Firma | Moravskoslezský | 3 |
| 26848597 | Inspection services s.r.o. | Firma | Moravskoslezský | 0 |
| 42767717 | K2 atmitec s.r.o. | Firma | Moravskoslezský | 150 |
| 46566635 | Kvarčák Miloš | Fyzická osoba | Moravskoslezský | 0 |
| 74475584 | Lerch Martin | Fyzická osoba | Olomoucký | 0 |
| 25862731 | NAM system, a. s. | Firma | Moravskoslezský | 75 |
| 27003949 | NÁRODNÍ DŘEVAŘSKÝ KLASTR, z. s. | Klastr | Moravskoslezský | 0 |
| 06252745 | Národní stavební klastr z. s. | Klastr | Moravskoslezský | 3 |
| 26629437 | Národní strojírenský klastr, z. s. | Klastr | Moravskoslezský | 0 |
| 24271098 | NetDirect s.r.o. | Firma | Moravskoslezský | 0 |
| no NIC | Pólka Marzena, st. bryg. dr. hab. prof. - Szkola Glowna Služby Požarniczej | Fyzická osoba | Polsko | 0 |
| 60777656 | RESPOND & CO, s .r. o. | Firma | Moravskoslezský | 0 |
| 00576310 | Sdružení pro rozvoj MSK | Nestátní nezisková organizace | Moravskoslezský | 15 |
| 71173846 | SH ČMS – Krajské sdružení hasičů MSK | Nestátní nezisková organizace | Moravskoslezský | 3 |
| 49606123 | TECHNICKÉ SLUŽBY OCHRANY OVZDUŠÍ OSTRAVA spol. s r. o. | Firma | Moravskoslezský | 15 |
| 00007064 | Technický ústav požární ochrany, MV GŘ - HZS ČR | Výzkumný ústav | Praha | 10000 |
| 70883521 | Univerzita Tomáše Bati ve Zlíně, Fakulta aplikované informatiky | VŠ | Zlínský | 1250 |
| 28606582 | VÍTKOVICE IT SOLUTIONS a. s. | Akciová společnost | Moravskoslezský | 150 |
| 45193380 | VVUÚ, a. s. | Akciová společnost | Moravskoslezský | 75 |
| 61989100 | Vysoká škola báňská - Technická univerzita Ostrava | VŠ | Moravskoslezský | 2750 |